Going ahead with defining a capsule wardrobe, today we introduce: The Striped Tunic Sweater by Plantation1982.
Here, we are going to tell you more about the material and design. Which, at first, may look simple, but each detail is deeply curated. Perhaps noticing details is something people are not used to anymore, though we know that some individuals have a special eye. But for those who don't, we hope you'll rediscover the pleasure of being more attentive, and maybe, more curious.
Made in Japan, this sweater is 100% cotton – with a soft hand. It's easy to match, and its cosy silhouette adds an elegant touch even to casual outfits.
Discover The Striped Tunic Sweater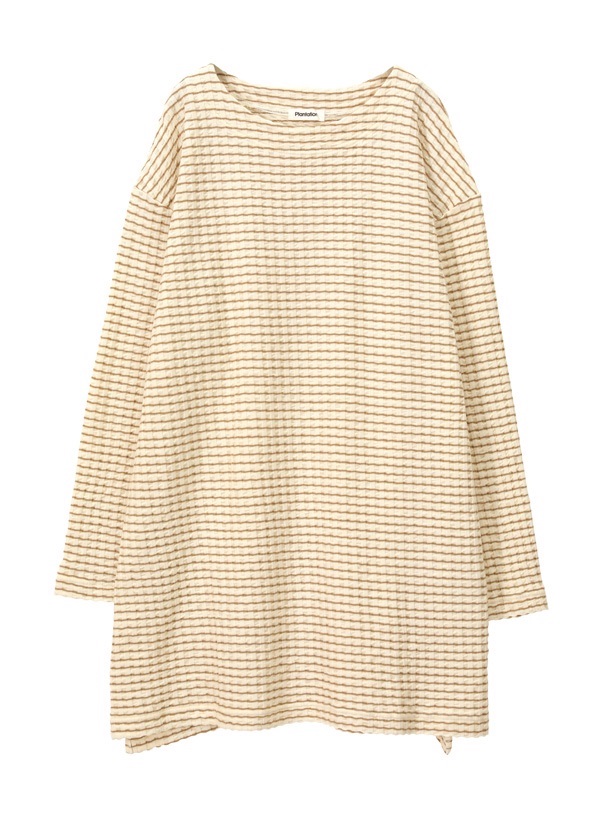 The ripple structure is swollen, like a tube – replacing the usual rib working.
The boat neck is shallow in the vertical direction and wide in the horizontal. This design makes the neckline look beautiful.
In addition, the vertical texture of the fabric makes it difficult to pick up the lines of your body and underwear. As a result, this garment is very comfortable to wear.
The tunic sweater is perfect for the turn of the season. But no worries, when the weather gets colder, it is easy to layer over it with a cardigan. Or a tank top or t-shirt underneath. Since the material surface is uneven, it will look great with many outfits.
The length is 168 cm, so it comfortably covers the hip line.
Now the colour: off-white. The base is off-white as a gentle cream. The stripes are mocha brown, giving an overall light and soft impression.
This product is washed to give it a unique texture.
And, most imp you can wash it by hand at home.
Educating ourselves to be aware of what we buy. Taking more time to evaluate, appreciating details – is a worthy exercise.
The world is full of garbage, we don't need more of it. Choose wisely!