Just arrived! The recycled felt tote is the perfect carry-all bag for your fall/winter season. Indeed, its features represent what we expect now from evolved designers.

Made in Japan by Plantation1982, it's a stylish accessory made out of recycled PET bottles.
Although made with oil, natural gas and raw materials, PET is 100% recyclable. Ok, the starting point is oil, and it would be better to find other materials. But at least, the flip side is reasonable.
To be clear, we must reduce the enormous amount of waste we produce daily. To this end, it is crucial to stop using disposable goods, plastic most of all. And limiting the number of plastic bottles we use by refilling our water bottles is one of the actions we can take immediately.
Discover The Recycled Felt Tote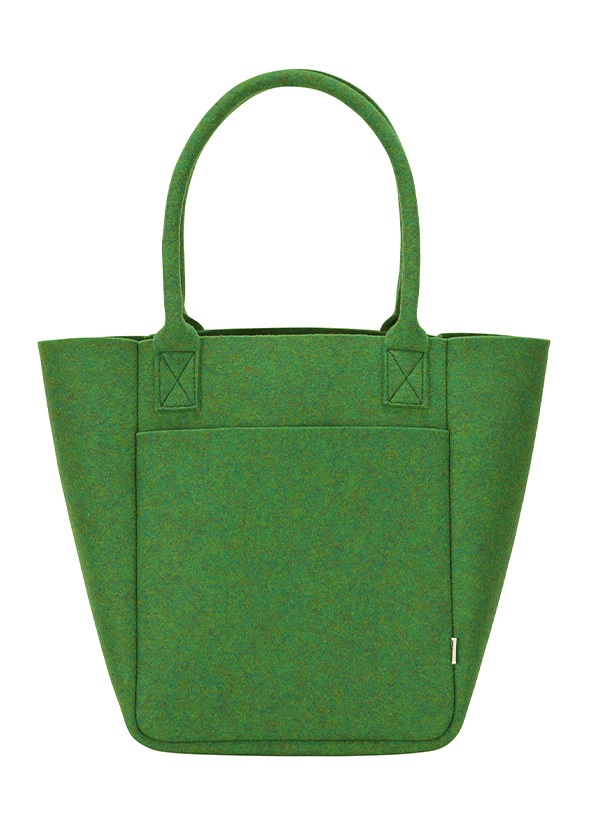 Anyhow, planning multiple solutions make the strategies viable.
If we think about the tons of plastic bottles we use all over the world daily, the idea of giving them a new life sounds interesting. Whether it means going back to their original shape or finding new forms, that's a valuable chance.
Since waste does not disappear, recycling materials is a meaningful way to reduce our impact on the planet.
Further notes about the material:
It's a thick felt. Specifically, an Italian felted fabric made from recycled plastic bottles. Sturdy but flexible and eco-friendly. The warm touch texture is comfortable for the winter season.
About the design:
Simple but functional. Open top. One front external pocket and one inside. Two top handles, you can carry it by hand or over your shoulder. It is a convenient bag because it is large enough for everyday use. Moreover, it is very lightweight.
The size: H31 W24 D20
Big enough to carry an A4 size file.
The colour:
A shiny green. Inspired by nature, it will brighten up your fall/ winter outfits.
This bag has high-quality finishing materials that are durable, supple and environmentally friendly.
Cool design #formodernhumans