Niche fashion #formodernhumans
Today we introduce The Tate Dress by Un_namable.
The image is avant-garde but understated, refined and comfortable.
Indeed, the high-quality fabric, dyed by hand with natural colours, and the asymmetric shape make it a meaningful garment you can wear day to night just by changing the shoes.
New in this Spring-Summer season, Un_namable is an Italian brand that creates unique and timeless clothes which are, at the same time, experimental and innovative. Juxtaposing fabrics submitted to special processing and avant-garde techniques, they transform the pieces into unexpected volumes and silhouettes. The brand emphasises the value of exceptional craftsmanship and uniqueness.
Discover The Tate Dress
About the design
Sleeveless, round neckline, loose silhouette. Under-knee asymmetric length. Garment-dyed dress; its beautiful textured fabric highlights the unique design. Indeed, the hand-dyeing process provides a special hand feel and particular shape.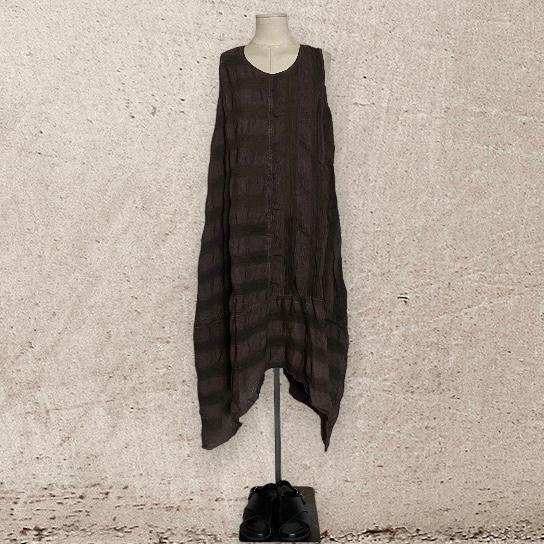 About the material
28% recycled linen, 20% hemp, and 52% recycled BCI cotton.
BCI is the acronym for Better Cotton Initiative, the world-leading sustainability initiative for cotton. Their mission is to help cotton communities survive and thrive while protecting and restoring the environment.
Also, hemp is a yarn with a high thermal insulating and breathable capacity, which behaves like wool: cool in summer and warm in winter.
About the colour
Double dark cacao, garment dyed.
All garments are dyed with pigments of natural origin. Specifically, the designer makes the colours starting from food ingredients.
Laundry
Easy-care product: wash by hand inside out in cold water.
Reshape whilst damp.
Styling tips
The Tate dress stands out as one piece. Because of the rich texture, it works on special occasions too, just by changing the accessories. Pair it with Antenora cross strap sandals. However, to wear it for a large part of the year, layer it over leggings or underneath a sweater.
How to purchase from us:
Drop us an email or WhatsApp for any further information. Also, you can book your private shopping experience – physical or via video call.
International Shipping available!
We are based in Milano but ship our niche fashion selection #formodernhumans everywhere.
In order to provide unicity and a sustainable approach, our selection offers a limited number of pieces.
Treat yourself today! ❤️