Today, among the new arrivals for the winter season, we picked out a unique accessory: The Fringed Check Stole – by Plantation1982.
Stoles are complements we love. They exquisitely cover you, enhancing your style by adding that final touch to your outfit. Indeed, these accessories are like stylish blankets to wear when you go out, and why not, even at home when you need a little cocoon.
This plaid stole is a beautiful maxi scarf woven as if the mesh overlaps by skipping or weaving wool threads.
Although the texture of the material is open weave and light, this stole is really warm. And so, decor and warmth, elegance and functionality, are well mixed in this item.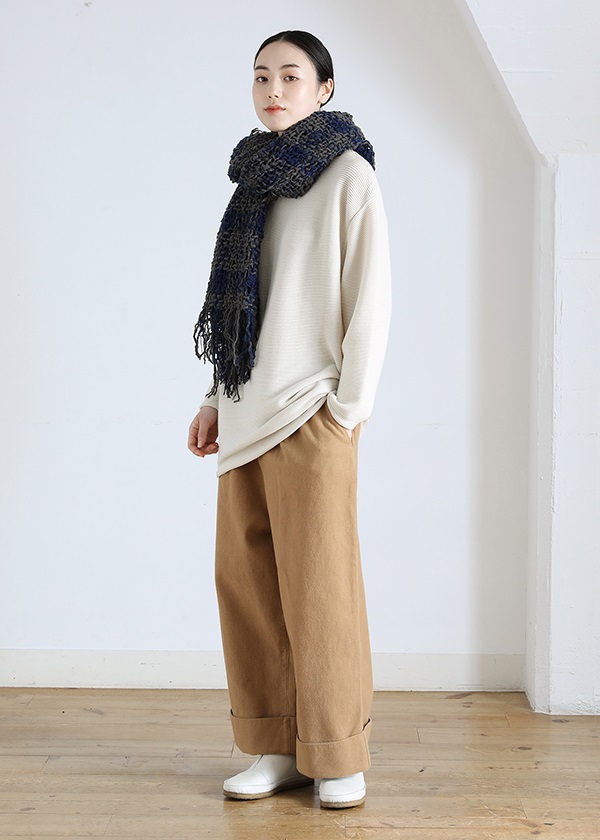 About the colour:
Blue and khaki, two colours weaved to create a particular check design. This combination gives a sophisticated impression. It's easy to match with dark colours but catches the eye paired with the light tones.
How to style the plaid stole:
By shrinking the stole at the ends, you'll get a rich volume and a swelling effect that stands out.
Further details:
This product is washed to provide a unique texture.
Please note that each item has different characteristics, such as size and texture.
Size: H180 x W90 (fringe included)
Material: 100% wool
Made in Japan
By choosing The Fringed Check Stole, you'll have a sense of quality and timeless aesthetic.
By the way, investing more for items that last is the lifestyle choice #formodernhumans
Buy less, buy better!