Today we introduce The Asymmetric T-Shirt by Marc Le Bihan.
It is an iconic piece of clothing handcrafted in Marc Le Bihan Parisian atelier for a niche audience. In fact, that is what Marc Le Bihan does: couture fashion, garments you will wear for a lifetime because couture is forever.
And once you wear it, you feel it. You see how it beautifully falls on your body. Indeed, it is an example of good design for people who want something different. It is modern and timeless at the same time. Also minimal but cool.
Discover The Asymmetric T-Shirt
About the design
This couture t-shirt has a side stitching that creates an asymmetric cut revealing a ruffled effect. The silhouette, spiralling around the body, is flattering and timeless. Round neckline. Long-sleeved with wide cuffs featuring a side hole to provide a glove effect. Raw cut hemline and detailing.
About the material
100% cotton. Specifically, dyed by hand cotton. And the texture is ribbed and very soft. So it feels comfortable when you wear it. Really, you would never take it off!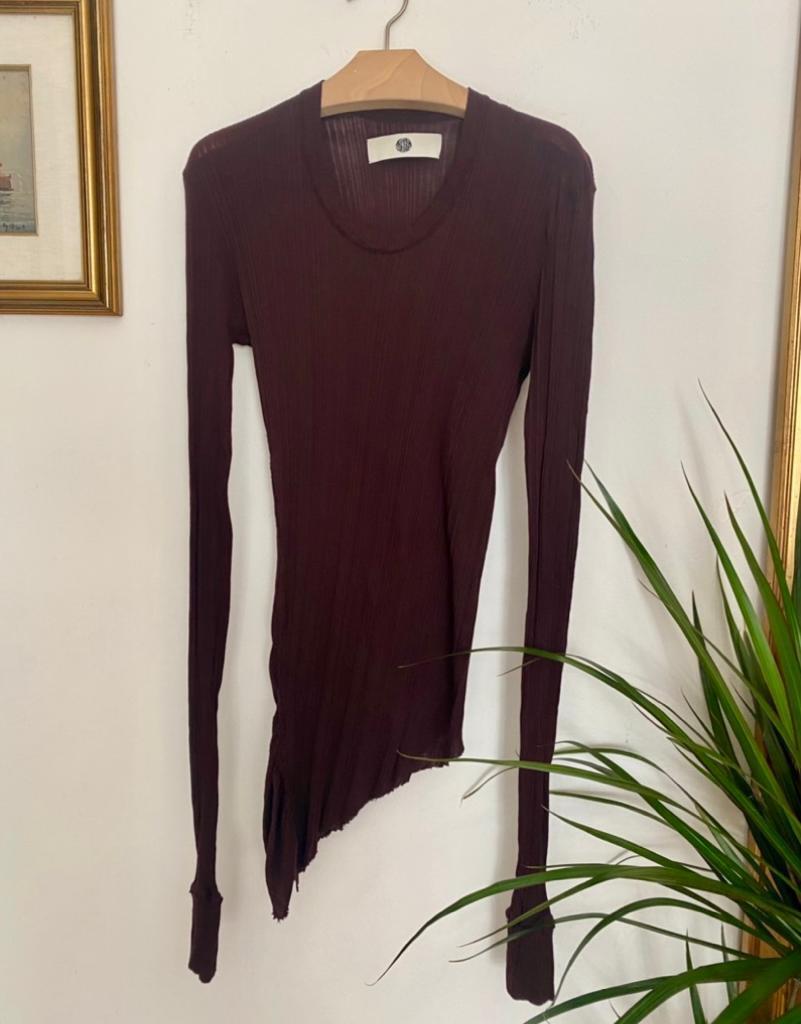 About the colour
Aubergine: a rich purple hue that contributes to enhancing an understated luxury image. And you can match it with many other colours, from neutral tones to dark ones.
Laundry
Wash by hand – easy care.
You can wash this product by hand in cold water.
Please wash it separately. Cool iron it on the reverse side.
Styling tips
The Asymmetric T-Shirt is stylish but easy to wear. Indeed, you can easily match it with your clothes. It enriches your jeans or black trousers. And try it under a blazer for your work wear outfits.
We ship everywhere!
We are based in Milano, but we ship our niche selection #formodernhumans everywhere.
Drop us an email or WhatsApp for any further information. Also, you can book your private shopping experience – physical or via video call. We'd love to help!