Comfortable yet stylish
Today we introduce The Wavy Cropped Pants – by Plantation.
This item offers a more relaxed style, perfect for the summer season, but the image is always elegant. So you can create many outfits by combining them with the tops you already have in your wardrobe.
Discover The Wavy Cropped Pants
About the design
The three-dimensional wavy effect of the material makes these jersey pants unique. The length allows you to see the ankles, so you can wear them neatly while feeling relaxed. Also, the waistband is elasticated, and the internal drawstring makes the fit adjustable and very comfortable.
About the material
The material with a wave-like border is 100% cotton, which is attractive for its silky feel while gently touching the skin.
Indeed the fabric elasticity is good. Moreover, the elastic effect created by the border thickness enhances the elasticity.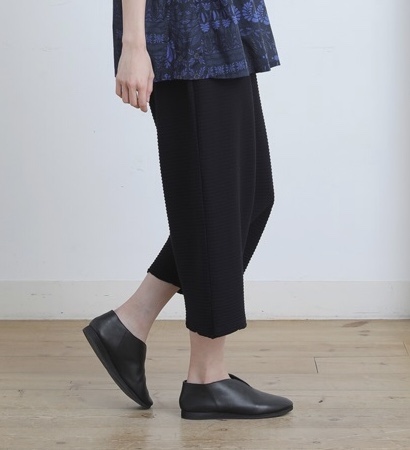 The Wavy Cropped Pants
Plantation

By giving the surface an embossed wave-like effect that creates a three-dimensional silhouette, it is difficult for the lines of the body to appear. And by improving it slightly with a 60/2 comb, the sense of sheerness is reduced. The fabric has good skin release and stretchability, making them ideal for your everyday style.
About the colour
Navy blue – a classic hue and a go-with-everything colour.
Laundry
Wash by hand, easy care.
After washing the product once, it gets an airy feel.
Style tips
The Wavy Cropped Pants are easy to match with a shirt, blouse or a t-shirt. Also, you can wear them under a shirt dress as a layered item. Why don't you try them with The Denim Shirt Dress? The combination is perfect!
With their unique material and comfortable fit, The Wavy Cropped Pants are a classic you'll never get tired of.
Drop us a message for any further information or book your private shopping experience, physical or via video call.
We'd love to assist you!